Granted, a teacher can do a lot with $250.
Educators frequently dip into their own pocket to purchase supplies for instruction, classroom projects, and more. STCU is there to help with classroom supply grants.
[November 26, 2019]
Lucky teachers this fall received $250 classroom grants, as your not-for-profit credit union welcomed back staff at 23 public school districts in Eastern Washington and North Idaho. This marks the seventh year that STCU has offered the grants.
Founded by teachers, STCU honored its roots by awarding $27,000 in grants to 108 educators drawn at random. Winners can spend their $250 grant on anything they believe will enhance students' classroom experience, whether a basic need or something special.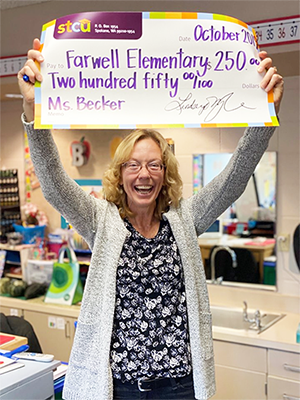 STCU made surprise deliveries to more than 108 winners. See photos of winners:
Pasco, Central Valley, Coeur d'Alene, Cheney, Post Falls, and others.
East Valley, Mead, Lakeland, and others.
West Valley schools.
Richland schools.
Kennewick schools.
Spokane Public Schools.

Continuing a long tradition, STCU provided meals, refreshments, and door prizes at back-to-school events for more than 6,500 educators and other staff in 23 public school districts in Eastern Washington and North Idaho. Classroom staff who attended the events were invited to enter a drawing for classroom grants.
In the spring of 2019, STCU also awarded $10,000 in classroom supply grants to teachers and others who were nominated. Check back later for more grant opportunities in the future!