Thank you, 200,000 times!
Every member has a story, and we're thankful for all 200,000 of them. Here are just a few who make STCU great:
Ken Spiering, artist and educator.

STCU member since 1977.
The man behind some of Spokane's most beloved public art sees STCU as a trusted partner for area educators.
In 1977, Ken Spiering was a struggling professional artist needing a new car. "Thankfully, I was hired as a part-time art teacher at Spokane Falls Community College," remembers Ken. "STCU stepped right up to the plate and gave me a car loan for a '77 Plymouth Volaré. I've been singing their praises ever since."
In the years that followed, Ken's work transformed Spokane: from the majestic Redband trout sculptures surrounding the Convention Center and leaping cougars at the STA Plaza to his iconic "Childhood Express" - a.k.a the Big Red Wagon at Riverfront Park - chances are that you're already familiar with his signature blend of whimsy and natural beauty. "I've been lucky enough to work on some great projects," he says.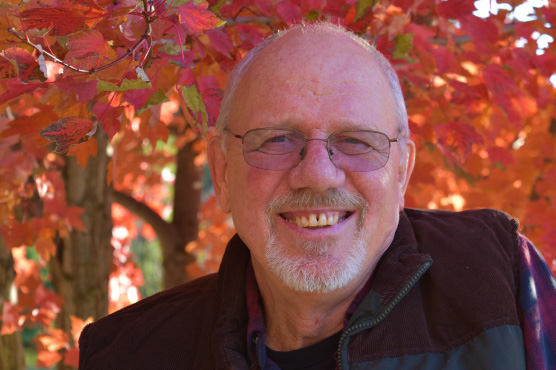 Ken taught art for 30 years at area colleges, and is finishing out his teaching career as a part-time art teacher at Freeman High School.
Through it all, he's remained an STCU member, with multiple personal and business accounts. "Anytime I can, I try to recommend STCU," Ken says. "I love the people and the over-the-top service that, believe it or not, actually makes me happy to do banking!"
---
Steve and Vicki Hertz – baseball coach and educator.

STCU members since 1981.
Eleven grandkids, 3 continents, and a whole bunch of First5 savings accounts.
Steve and Vicki Hertz settled down in Spokane in 1981, after a stint in California, where Steve coached baseball at UC Irvine. Steve became the pitching coach for Gonzaga University and Vicki a middle school English teacher. That year they also joined STCU.
Nearly, forty years later, their grandkids are all STCU members. How did all 11 grandkids, ages 4-14, become members of STCU? The answer has to do with education.
The Hertzes have five grown kids, four girls and one boy. "Our girls are each two years apart, Steven came six years later. He didn't touch the floor until he was 4 years old because his sisters all wanted to hold him. But they can't hold him anymore, he's 6-foot-7," says Steve.
Four of their children and three of their children's spouses are educators. Of the 14 adult extended family members, 13 are graduates of Gonzaga University -- so being educated and educating others is a big priority.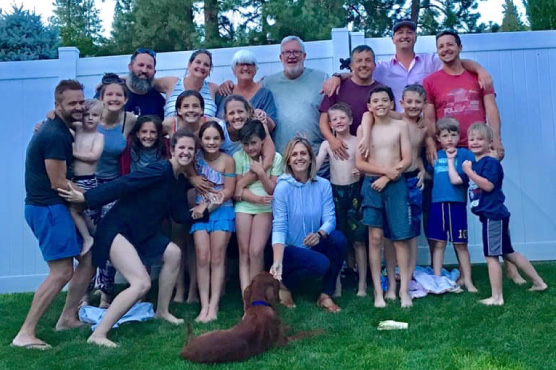 And, two parts of this "ZagFam" clan are overseas. One family teaches at an international school in Bogota, Colombia, and another hails from Erlangen, Germany. With so many grandkids in such disparate places, birthdays and Christmas became complex problems to solve.
They decided to open First5 savings accounts for all 11 grandkids. "Rather than give them a trinket that will break....we decided to start savings accounts for each of them. So on their birthday we put $25 in and on Christmas we put $25 in."
"Their parents appreciate it, but the kids don't understand it," says Vicki with a chuckle.
Of course, they're hoping the grandkids will put it to good use. But once they hand over the accounts, all 11 can do whatever they want with the money. "We want them to let it grow at least until their first day of college, but it's theirs by that time for anything they want to do with it."
Vicki and Steve plan to keep investing in their grandkids' future "as long as we live," says Vicki.
---
Brandon Beveridge, entrepreneur.

STCU member since 2015.
Here's at least one reason to listen to your mother-in-law's advice.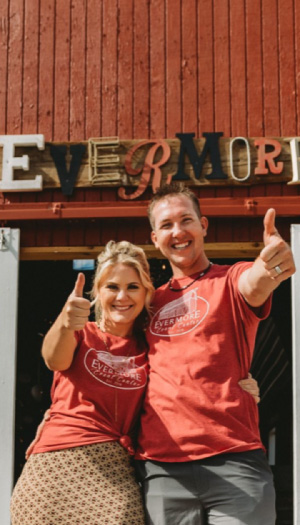 Fifteen years ago, Brandon Beveridge's future mother-in-law (Gabriele von Trapp) joined STCU. A big national bank wasn't treating her right and she began to look for a local alternative. Then, 10 years ago, Eva (Brandon's soon-to-be-wife) joined. STCU is her first and only financial institution — and will always be, she told Brandon. Soon, Eva and Gabrielle ganged up on Brandon (in the best way possible) and told him to join STCU after hearing about his own problems with the big bank. Brandon said it was "the best decision I ever made" besides his next one — when he married Eva shortly afterwards.
Next, this trio became entrepreneurs. "STCU helped us turn a passion into reality. Two years ago we all moved out to Deer Park with a vision to start up a wedding venue. We found a beautiful barn on a farm with lots of potential. With tons of hard work, determination, credit cards, and an STCU business account, we accomplished our dream. Now all three of us STCU members own a successful wedding venue and are living the dream."
Today, Evermore Event Center in Deer Park, Wash., is home to the start of many new journeys that all started with the ladies in Brandon's life convincing him to give STCU a try.
---
Curt Donner, retired educator.

STCU member since 1978.
The career teacher and coach — who's been known to sing a song or two — can trace his family's membership back to STCU's founding in 1934.
Over his 28 years working in Spokane schools, Curt Donner pretty much did it all. "Oh, I taught life science, P.E., math, computer skills; coached football, boys and girls basketball, track, cross country, wrestling," he says. "I came from a family of educators, and had a great career."
Curt's father, Bill Donner, worked his way from student to teacher, vice-principal, and finally principal at Lewis and Clark High School, where he handed Curt his diploma in 1970. Bill also knew STCU's first president, Ernie McElvain.
"My dad was an STCU member from the beginning. He remembered the first shoebox deposit system," Curt says with a chuckle. "I'm humbled by our family's long history with STCU."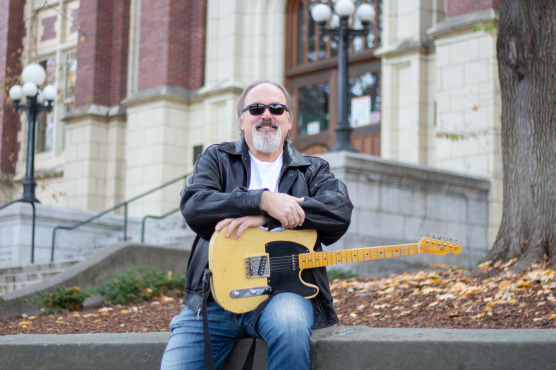 An amateur guitarist and singer, over the years Curt's been a regular performer at Spokane's annual Street Music Week, which benefits Second Harvest Food Bank. "It's always fun, and it's for a good cause. What's the saying? 'It's not about virtuosity, but generosity,'" says Curt.
The owner of a rare, three-digit STCU member number, Curt's proud to carry on the family legacy at STCU, and is a walking testament to the credit union's deep ties to the community and local educators. "They've always been there for me, and I'm proud to be a long-time member," he says.
---
Kim, Deanna, and Melissa: three generations of STCU employees.
For three women, STCU's culture runs deep in their family history.
It all began in 1973 when Deanna Jensen and her husband moved their family to the Spokane area, and joined STCU.
Their daughter, Kim Jensen, began working for the credit union in 1986, just a year after graduating from Ferris High School. Six years later, Deanna joined the team at the Valley Branch, where she stayed until retiring in 2006.
It was at STCU where Kim announced to Deanna that she was expecting a child, by placing a pair of booties with the word "Grandma" on Deanna's desk. That daughter, Melissa Simbler, has been a member since she was six months old. When it came time for her to pursue a career after college, working for STCU just made sense.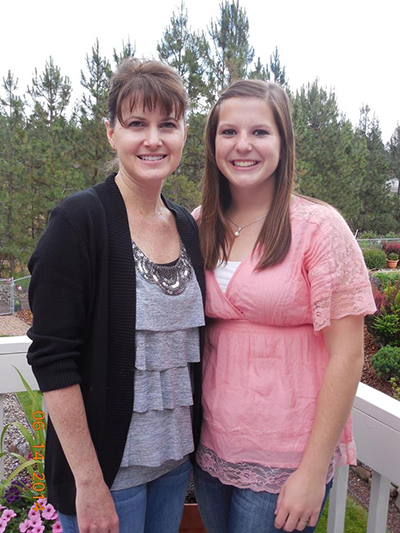 Thirty-three years after starting her career, Kim says it's more than just a job. "My coworkers are my very best friends. It is my family, my dream job," she said.
"And my members! You get those regulars and that's what makes it worth it," Kim added.
Deanna said working with members was never just about providing a service, but "about providing human connection and taking the time to put together caring words."
She recalls the day that a familiar member told her that he was terminally ill. "He asked if he could bring his wife in and introduce her to me because he wanted her to have a trusted person to go to when he was gone," Deanna said.
Melissa practically grew up in the credit union, and spent time in the branches. "My friends were the kids of my mom's coworkers," she said.
Now, she runs into STCU members who were served by her mother and grandmother. "Just the other day, someone came through the drive-through, and my mom had opened their account in 2011," Melissa said.
For these three women, STCU has expanded their family by dozens of coworkers and thousands of members. "You're family if you treat them like family," Deanna said.