Social distancing expert guides credit union response.
Liberty Lake, Wash. — STCU officials today confirmed that the credit union has for years operated a secret unit that tracks and communicates with Bigfoot, the world's most renowned expert in social distancing.
The Sasquatch Tracking Conservation Unit (S.T.C.U.) monitors the heretofore mythical creature's whereabouts — and quietly passes along suggestions from Bigfoot to improve services at the Inland Northwest's No. 1 credit union.
"Remember when STCU rolled out the mobile app? That was Bigfoot's idea," said Dan Hansen, communications manager for the not-for-profit financial cooperative.
"The big guy was taking a trip from Canada to Tennessee, and asked for a convenient, free way to do his banking on the road," Hansen said. "We installed the mobile app on his phone as a test before rolling out the service to every member who wants to bank from home or on the go."
Leading from a distance.
With the worldwide outbreak of COVID-19 coronavirus, STCU has been working with Bigfoot to train employees on social distancing and public health.
"Bigfoot's recommendation to frequently wash hands in a mountain stream was a nonstarter," Hansen said. "However, his tips on avoiding contact with others were superb. You'd be surprised how easy it is to impersonate a pine tree."
Bigfoot's contributions to STCU success are legend inside the company. "The Spokane Indians partnership we announced in February? That was Bigfoot's idea," Hansen said. "Bigfoot goes fishing every spring with Otto, the Spokane Indians mascot. Who knew they were such good friends?"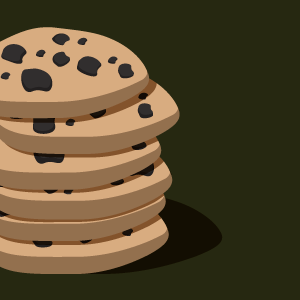 Hansen said Bigfoot was also behind the credit union's decision to open branch locations in the Tri-Cities, where the tall, Chewbacca-like character keeps a summer home near the Columbia River.
Cookies on teacher payday? Bigfoot years ago learned to bake at Spokane Community College's culinary school, and began bringing cookies to STCU branch locations. Becoming a "green" credit union? Also Bigfoot's idea.
Among other talents, Bigfoot often doubles as a secret shopper, Hansen said, opening accounts at other credit unions and banks under the name "George Henderson." "It's shocking how many banks distrust people who do not shave," Hansen said.
The S.T.C.U.
The S.T.C.U. tracking unit is a small group of employees at STCU's Liberty Lake headquarters that reports directly to the president/CEO.
"Some people thought we moved our headquarters to Liberty Lake because our president at the time had a home on the water," Hansen said. "Not true. It was the perfect cover for Bigfoot, who loves roaming through nearby mountains and playing midnight golf in the city."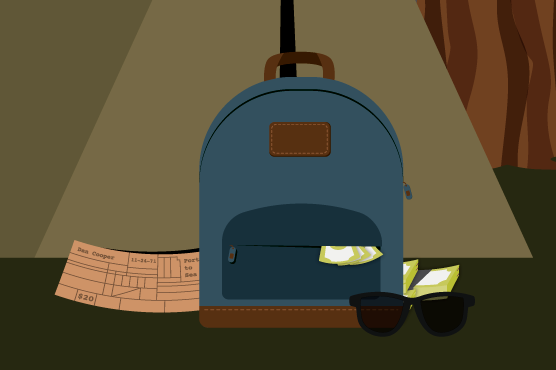 Hansen said Bigfoot began frequenting the credit union in late 1971 after he found $200,000, a pair of sunglasses, an airline ticket, and a parachute in the Cascade Mountains, south of Seattle.
"Bigfoot was fond of the Eastern Washington area code, and said savers should earn 5.09% on their money," Hansen said. "We agreed, and created the First5 savings account to pay 5.09% APR on your first $500. Soon every member, short and tall, was asking for it."*
Same goes for the STCU Best of Broadway partnership. "There was something about 'Phantom of the Opera,' a story of a guy forced to live in hiding, that really spoke to Bigfoot," Hansen said. "Bigfoot attended every show — watching from under the opera house, of course — so we decided it would be a nice to sponsor the Broadway series."
Big, loose foot.
Even hiring practices have been affected by Bigfoot, who has admitted to the S.T.C.U. that he enjoys stalking celebrities. In recent years, Bigfoot helped recruit three STCU employees who share names with celebrities — Kevin Bacon, James Kirk, and Jennifer Lopez. Bacon and Lopez has since left STCU, But Kirk still works in digital channel management.
"You should see Bigfoot's amazing "Footloose" dance impersonation of Kevin Bacon," Hansen said. "With Bigfoot's foot movement, he could be center for Gonzaga... which, curiously, he was a few years ago, but that's another story."
In 2017, when the Board of Directors were seeking a new president/CEO, it turned to Ezra Eckhardt, who already had developed a distant relationship with Bigfoot while mountain biking on Mount Spokane.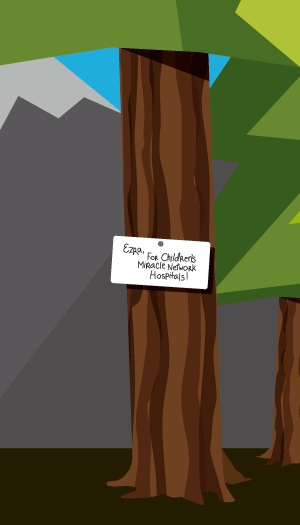 "I saw him in the distance staring at me," Eckhardt said. "It was surreal, like that famous video clip. After a minute, Bigfoot nailed an envelope to a tree, then turned and loped away through the woods. Inside the envelope, I found a $100 donation to the Children's Miracle Network Hospitals."
STCU's annual charity fundraiser? Children's Miracle Network.
LaFleur takes aim.
Not everyone, however, is thrilled about Bigfoot's presence at STCU. Jacques LaFleur, director of the local nonprofit, Babies Without Bibs, claims that STCU fixes its "Who do you love?" contest to ensure that only organizations Bigfoot supports receive the prize money.
"The hairy one always gets his way," LaFleur said. "Think about it: most of the winners are pet rescues, save the forest fanatics, and podiatry clinics — all Bigfoot favorites. Babies almost never win. And by the way, don't they know that it's 'Whom do you love?' not 'Who do you love?' Dumb marketing people can't even spell write."
Hansen said WDYL winners are based on the number of nominations that a nonprofit receives, which is monitored by credit union auditors.
"Even if Bigfoot did have favorites, we're beginning to think he is very fond of babies," Hansen said. The STCU has evidence to support what could be the biggest secret of all — Bigfoot may be female."
Absolutely critical April Fool's Day disclosures.
The story above shows what can happen when you quarantine a marketing person for too many days. In a small apartment. With two hyperactive children.
Thanks for participating in our annual April Fool's day joke. No actual Sasquatches were harmed in the making of this joke, though we find it very interesting that our CEO keeps a pair of old sunglasses and a parachute in his garage.
---
*APY = annual percentage yield. APY is accurate as of the last dividend declaration date. No minimum balance required to earn the APY and no penalty for withdrawals. Balances above $500 earn 0.05% APY. Rate is subject to change and may change after the account is opened. STCU membership is required to open account and fees may reduce earnings. One First5 Savings Account per person. View rates and terms
---
related